EMHS Health Promotion artwork celebration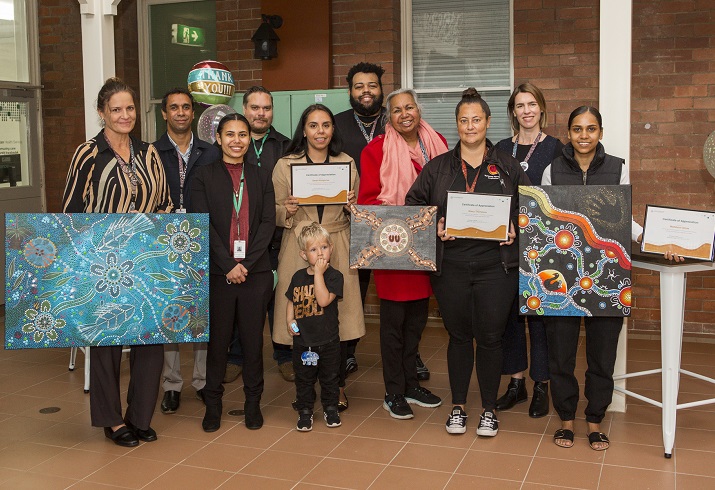 The EMHS Health Promotion team recently celebrated the creation of three unique artworks created for the team by local Aboriginal artists.
The artworks, which were commissioned to help share the teams stories and purpose, are an important step for Community and Population Health services at EMHS to be culturally safe and appropriate and reflect the culture of the Noongar people, upon whose land the services are provided.
The celebration event, held at RPH last month, paid appreciation to the artists, Sarah Humphries, Missy Thompson and Maddison Alone, and celebrated the collaboration with the Health Promotion team.
The three pieces of artwork were commissioned to support different areas of the team's work including:
Artwork created for the Health Promotion Strategic Directions
Created by Sarah Humphries, the artwork represents our Aboriginal people gathering together and starting their health journeys. The artwork shows a continuous journey of learning from one another, sharing and paying close attention to the significant knowledge passed down from our ancestors to future generations. It represents the health promotion team, learning and growing together and traveling out connecting with community and building strong community around health for our future generations.
Moorditj Wirrin Koolangkas Program Logo
Created by Missy Thompson, with a design concept from Health Promotion Officer Jordan Gliddon and the team, the logo represents the program and incorporates a story of the work the program delivers. Moorditj Wirrin Koolangkas (Strong Spirit Kids) is an EMHS initiative led by Aboriginal Health Promotion Officers. The program engages with Aboriginal high school students and covers the risk factors of tobacco and alcohol use, and the importance of sexual health and healthy relationships.
Health Promotion Team Shirt Design
Created by Maddison Alone, the artwork shows how the EMHS Health Promotion team supports communities within the metropolitan region. The work and support are important to all people as one, as we encourage the process of enabling people to increase control and improve their health. With both our Aboriginal programs, Moorditj Wirrin Koolangkas and Yarning it Up, Don't Smoke It Up, we travel each day to invest in bringing the gap closer.
Guests at the event had the privilege of being Welcomed to Country with a smoking ceremony by Noongar Elder, Barry Winmar, and enjoyed a fantastic performance from traditional dancers Ash Penfold and Dylan Stack, and Didgeridoo player Jayden Boundary from the group Ngalak Nidja (meaning we [are} here in Noongar).
Executive Director, Clinical Service Strategy and Population Health Joel Gurr spoke at the event, along with Aboriginal Health Promotion Officers Zyhannah Bin Jalil and Fiona Heneker, and Senior Health Promotion Officer, Megan Cromarty.
"Seeing the collaboration of the team together with the artists has been amazing and the artworks are stunning," Health Promotion Coordinator Holly Scott said.
Well done to the Health Promotion team for a fantastic event. The artworks will feature in new resources and will soon be displayed at the Jarrah Road offices in Bentley.