From numbers to nursing, mental health NUM thrives in rewarding career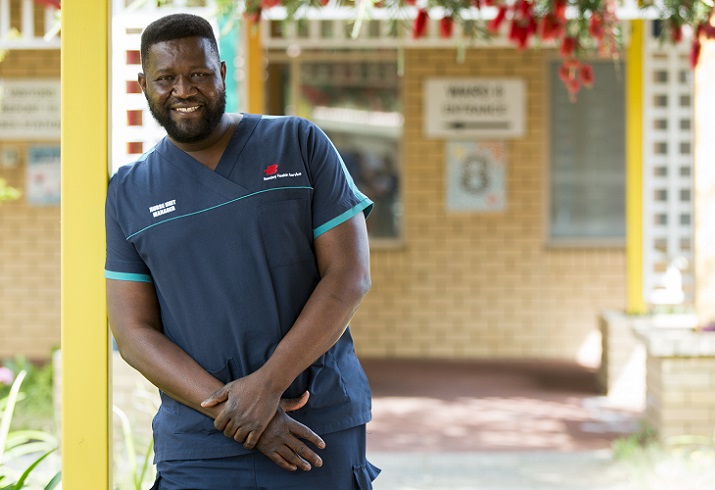 Manoh at BHS
Bentley Health Service (BHS) mental health nurse Manoh Dumbuya had almost completed a degree in accounting when he arrived in Australia in 2006 from the West African country of Sierra Leone.
But on learning that accounting job prospects would be limited in Perth at the time, he decided to switch to nursing.
Manoh's eldest sister Mary – who sponsored him to come to Australia – was already a nurse, so he knew a bit about the work and that there were good opportunities in the field.
Though he would have been unlikely to consider a nursing career back in Sierra Leone "as you would hardly ever see a male nurse there", he is so glad he chose to pursue it here, where he says attitudes to men in nursing are totally different.
Today, as a nurse unit manager (NUM) in BHS's Mental Health Unit, Manoh describes his work as his "passion" and hopes he can encourage others to join him in the profession.
Though he undertook general nursing training, he chose to work in the mental health field after placements at BHS during his time on the Comprehensive Graduate Nursing Program.
He says that while he enjoyed general nursing, he was drawn to the Mental Health area because it involved engaging with patients on a deeper level.
"As a general nurse, you get to sit down and talk to the patient but it's on a more superficial level," he explains.
"As a mental health nurse, you have to dig deeper to try to understand what is going on in their mind."
But Manoh says the real reward from his role comes from seeing the difference he can make in people's lives.
"It's seeing the patient improve, and knowing it is because of the work you are doing," he says.
And he points out that patients are not the only ones who benefit.
"Family members will often come in with them and be highly distressed and feeling a sense of hopelessness.
"So, when the patient is well enough to go home and you see them come back in to pick them up, it's very satisfying."
Manoh says that although perceived aggression associated with mental health nursing can deter some people from considering mental health nursing roles, most of the aggression he experiences through his work is verbal and due to the patient's illness, so he knows not to take it personally.
He also says staff receive lots of training on how to manage difficult situations.
Manoh has been working at Bentley Health Service for more than a decade and describes it as a great place to work, and where staff are given good opportunities to explore different work areas.
"It's also small enough that people get to know everybody," he says.
"We're like a big family."
Manoh reveals a love of nursing runs in his own family.
As well as his sister Mary, who works across the road from him in BHS's stroke ward, he now has another sister who is a nurse and a brother who is in his second year of a nursing degree at Curtin University.