Australian Physiotherapy Association recognises two of our own physiotherapists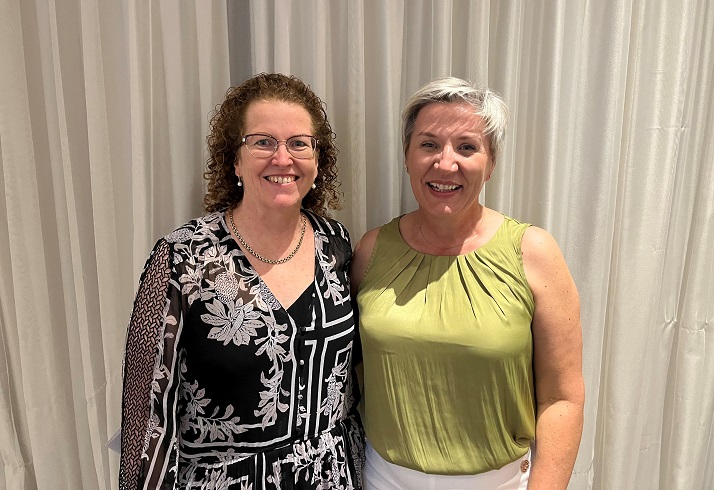 Two of our amazing RPBG Physiotherapy staff were recognised at the Australian Physiotherapy Association (APA) WA Branch annual awards this month.

Physiotherapy Head of Department Carol Watson was celebrated for her outstanding contributions to the profession while Senior Physiotherapist Irena Nurkic was acknowledged for her outstanding contribution to Physiotherapy Education.

Both Carol and Irena admitted to being surprised at being singled out for the commendations.

"I felt humbled and a bit embarrassed, but also quite chuffed," Carol said.

"I work with amazing people at RPBG who always go above and beyond. It's really easy to lead such a great team, and then to be recognised by my professional body for that work and my contribution to the association is something to be proud of."

Having joined Royal Perth Hospital (RPH) in a part-time role back in 1995, Carol then moved to Bentley Hospital (when it was not part of RPBG) for a few months before commencing a full-time position at RPH the following year.

She is known as an exceptional leader with postgraduate qualifications in management and research, and an extensive career with many highlights including but not limited to design and implementation of novel models of care across a range of clinical areas and staff development programs.
According to Carol, it's the people who make the place.

"My goal has always been to bring the best physiotherapy to the multidisciplinary care of our patients, ensuring that care is delivered in the right place at the right time and by the right person," she said.

"RPBG has always had a can-do attitude and the people who work here are all highly committed to their roles.

"I hold Servio close to my heart and a commitment to helping people when they are at their most vulnerable. I think that's why so many of us who come to work here stay.

"I have been fortunate to have worked with some fantastic health professionals from the broader multidisciplinary team and wonderful clinical physiotherapists, past and present, who have been leaders within our service and beyond.

"It has been an honour to work with leaders in clinical areas such as musculoskeletal physiotherapy, pain management, critical care, neurosciences and rehabilitation, including people like Irena who is a specialist in women's and men's pelvic health."

Irena joined the RPH family in 2000 and has worked in Continence and Sexual Health Physiotherapy for more than 15 years now. She is a highly regarded expert in this field, having achieved the title of Specialist Physiotherapist, awarded by the Australian College of Physiotherapists in 2020.

In addition to having been the backbone of these services at RPBG for many years, Irena contributes substantially to education programs in this area.

What does Irena love most about her job?

"My patients," she said instantly.

"They want to be heard, seen as a person, and have their worries and fears addressed. Patients presenting with continence and pelvic health problems are particularly vulnerable, and I feel privileged that they feel comfortable enough to share their intimate problems with me.

"My job is very rewarding, as even small improvements can mean a lot in patients' lives."
Congratulations to both Irena and Carol on their APA awards. Well done, and we thank them for always stepping up and demonstrating the highest levels of commitment and service.