EMHS opens State's first gender diversity service for adults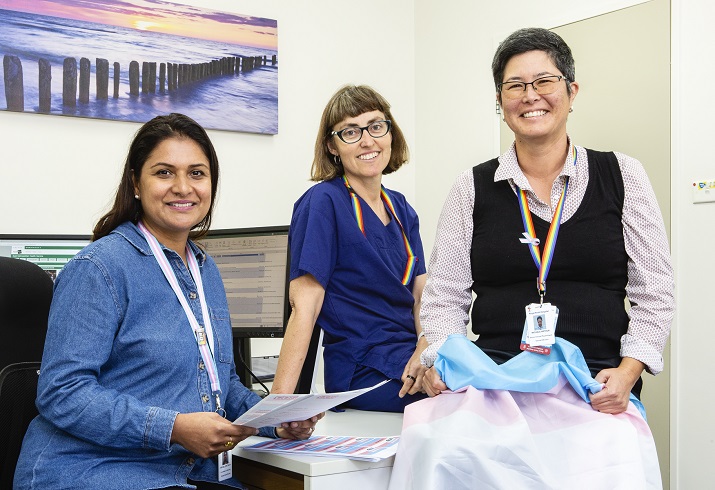 EMHS's Gender Diversity Service team
EMHS has opened Western Australia's first gender diversity service (GDS) for transitioning adults.
The multi-disciplinary service provides initial assessment and/or hormone therapy for individuals over the age of 18 years.
Sexual Health Physician Dr Sally Murray – who heads the GDS – praised EMHS' executive group for giving it the go ahead and providing initial funding to get it off the ground.
"This service is well overdue and will provide much needed help to an extremely vulnerable patient group," she said.
"Research has shown us that without the appropriate help, 80 per cent of these individuals will self-harm and about half will attempt suicide."
Sally also revealed that some patients turned to the internet to buy hormones, taking guidance from online chat groups, potentially putting their health at risk in the process.
The GDS is staffed by a sexual health physician, endocrinologist, clinical psychologist, speech therapist, clinical nurse consultant and clerk.
A psychiatrist has been recruited to the service and will join the team shortly.
Sally said that although RPH had previously seen transitioning patients through its Sexual Health Clinic, the GDS was now providing a dedicated and formalised service that would be open to transitioning patients throughout Western Australia.
She revealed the GDS already had a long waitlist.
"We have about 180 people waiting to be seen and patients currently face a two-year wait for their initial appointment," she said.
"The funding we've been given will enable us to see 70 to 90 patients a year and we receive about 230 referrals a year through the Central Referral Service.
"About 40 per cent of patients who will be seen, will be adolescents transitioning from Perth Children's Hospital while the remainder will be from GP referrals."
A paediatric GDS – funded by the Mental Health Commission – has been running in Western Australia since 2015. The service initially operated from Princess Margaret Hospital, but moved to Perth Children's Hospital when the new hospital opened in 2018.
Sally said EMHS' new service did not offer surgical procedures because gender reassignment surgery was not available in the public health system.