Hospital-acquired complications
People suffering from a medical condition receive best-practice care and treatment while in hospital. Sometimes in spite of the best care, other health or medical problems arise, either related to the primary diagnosis or related to care or treatment. This is referred to as a complication. A hospital-acquired complication (HAC) is a complication for which clinical risk mitigation strategies may reduce, but not necessarily eliminate, the likelihood of that complication occurring.
The national list of 16 HAC Groups was developed by the Australian Commission on Safety and Quality in Health Care through a comprehensive process that included reviews of the literature, clinical engagement and testing of the concept with public and private hospitals. The HACs list identifies agreed types of high-priority complications that clinicians, managers and others can work together to address and improve patient care.
The 16 HAC groups are:
Pressure Injury
Falls resulting in fracture or other intracranial injury
Healthcare associated infection
Surgical complications requiring unplanned return to theatre
Unplanned intensive care unit admission
Respiratory complications
Venous thromboembolism
Renal failure
Gastrointestinal bleeding
Medication complications
Delirium
Persistent incontinence
Malnutrition
Cardiac complications
Third and fourth degree perineal laceration during delivery
Neonatal birth trauma
Measuring hospital-acquired complication rates
Primary and secondary diagnoses and complications are routinely recorded for every admission in administrative databases after discharge. Analysis of this "coded data" provides health services with information about the occurrence of complications.
If one or more complications from the HAC Groups occurs during an admission, then that admission is counted as "an admission with one or more HAC" or "HAC Episode". Sometimes there may be more than one complication from the same HAC Group, or complications from two or more different HAC groups.
The chart that follows shows HAC Episodes (Groups 1-14 only) for EMHS hospitals combined as a percentage of all admissions per year since 2018.
How do we measure up
The graph below shows the percentage of admissions with one or more hospital acquired complications for the EMHS hospitals:
Armadale Health Service
Kalamunda Hospital
Bentley Hospital
Royal Perth Hospital
Chart: Percentage of admissions with one or more hospital acquired complications.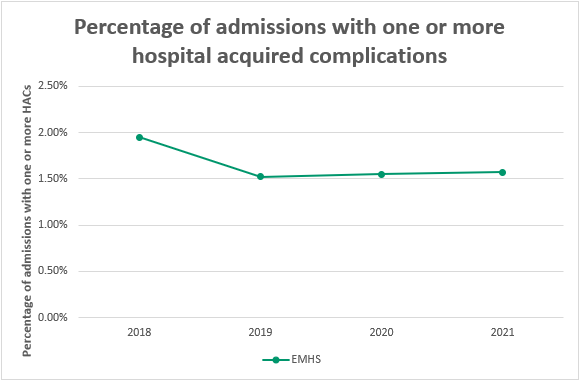 What the figures mean
The percentage of admissions with one or more hospital acquired complications remains stable. A lower percentage indicates fewer complications and is desirable. While no benchmark has been set for this indicator, EMHS constantly strives to reduce the number of hospital acquired complications through a broad range of improvement initiatives.