Hospital-acquired complications – Pressure injury
A pressure injury is a sore, break or blister of the skin caused by unrelieved pressure or friction on an area of the body over a period of time. The depth of skin damage can vary from shallow to very deep. Pressure injuries can be very painful and take a long time to heal. They may also reduce a patient's mobility.
Older people are at most risk of pressure injuries, but they can occur in any patient or in any setting, including:
acute areas such as operating theatres
during transportation to a hospital
intensive care units.
The majority of pressure injuries are preventable; however those at greater risk include the frail, elderly or people who have:
been confined to a bed or chair
poor bladder or bowel control
diabetes, poor circulation or a history of smoking
reduced mental awareness due to illness, medications or anaesthetics
poor diet or fluid intake.
Pressure injuries may impact significantly on a patient's:
length of hospital stay
comfort and quality of life
cost of care and health outcomes.
Measuring hospital-acquired complications – Pressure injury
The international pressure injury classification systems provide a consistent and accurate means to communicate and document the severity of a pressure injury between clinical staff. The classification system grades these types of wounds in stages depending on:
changes in the patient's skin
the depth of the injury
whether there is any fluid draining from the wound.
Healthcare commonly uses rates to measure complications such as these. The number of patients who developed one or more Stage 3 or greater pressure injuries during their hospital stay per 1,000 patient days.
How do we measure up
The graph below shows the combined inpatient pressure injury rate for the EMHS hospitals:
Armadale Health Service
Kalamunda Hospital
Bentley Hospital
Royal Perth Hospital
St John of God Midland Public Hospital
Chart: Rate of hospital-acquired pressure injuries.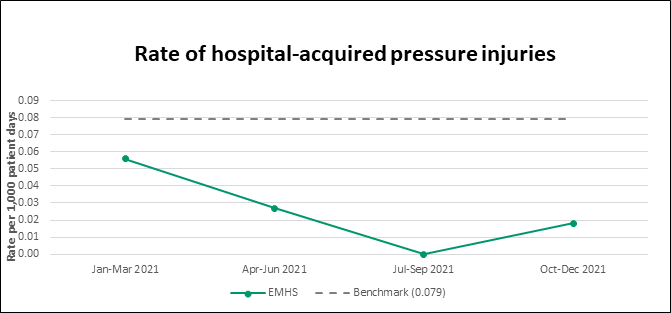 What the figures mean
The benchmark is less than or equal to 0.079 hospital-acquired pressure injuries per 1,000 patient days. A rate lower than the benchmark is desirable.
EMHS results have been better than the benchmark in all of the last 4 quarters.